Low Carb Red Velvet Cakes
Red velvet cupcakes are a classic valentine's day dessert. That bright red color, perfectly white frosting, and heart-shaped sprinkle can be seen in bake shops and grocery stores all over. The moment February starts, the red velvet comes out! So, we decided to jump on the red velvet cupcake bandwagon and make a delicious keto version. Of course, it had to be delicious, beautiful, and perfect for a holiday that revolves around love. We do love keto after all!
Let's talk a little bit about what red velvet is before we get into our keto red velvet recipe. Red velvet actually goes back hundreds of years. Long ago, a cake was more like a dense, sweet bread that we know today. Think of banana bread as an example. People would put nuts and dried fruit in the "cake" and they would often have a crumbly, dry texture. If someone said they were making a "velvet" cake, that meant it would have a smooth, softer texture, more like the cake we know today. Velvet cakes were a luxury and typically reserved for fancy parties.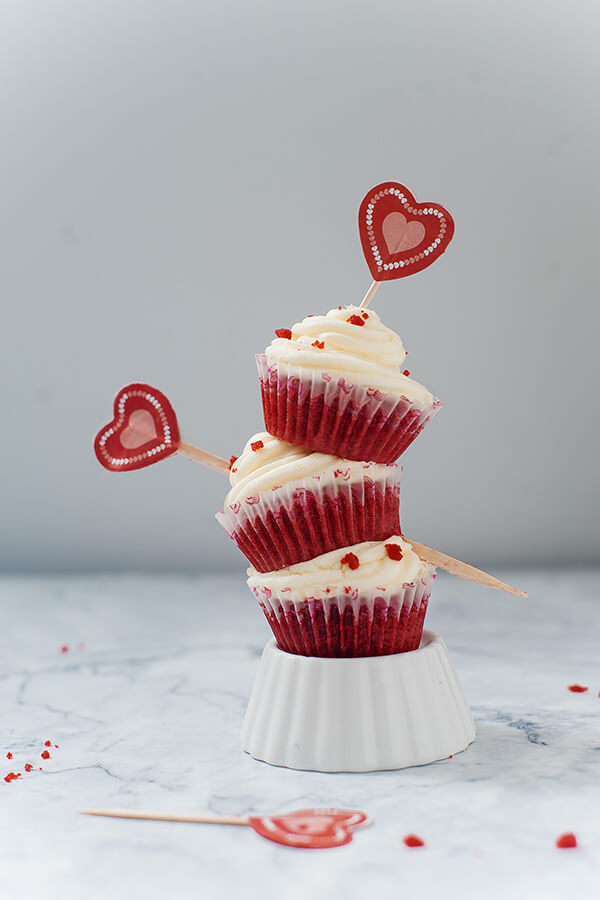 Red velvet cake specifically has a few different stories behind it. Some records claim that the signature red color came from a chemical reaction. The cocoa powder and the acid (the buttermilk and vinegar) in the cake would mix and create a reddish hue. Other accounts claim that the red color was from beet juice that was used to make cakes during world war II when sugar was scarce. You can still find red velvet recipes today that use beet juice. Apparently, people loved the color and the flavor of these red cakes and they became popular.
Whatever the real story is, red velvet is definitely here to stay. These days, the red color usually comes from food coloring that is added to the cake. However, when made correctly, red velvet is still smooth, sweet, and completely velvety. We wanted to keep this taste and texture when making our keto version- we have to stick to tradition!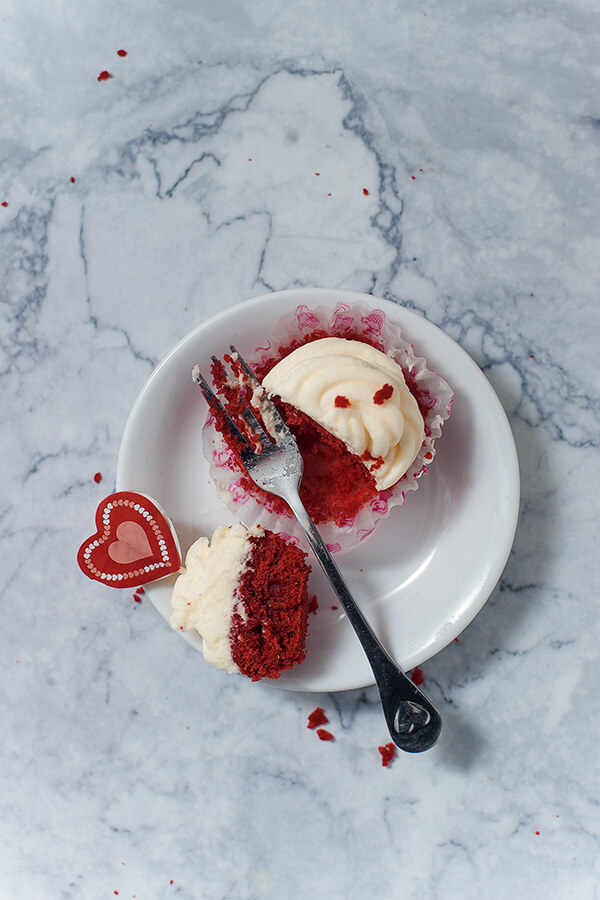 Our low carb red velvet cake uses unsweetened cocoa powder to give the cake its traditional chocolate flavor. We opted for apple cider vinegar for the tart, acidic flavor that all red velvet cakes have. Instead of sugar, we used So Nourished granular erythritol. It tastes almost identical to sugar and is nice and grainy, helping to fluffy the butter in the first step of the recipe. We used almond milk in our keto red velvet recipe but you can definitely use buttermilk. Buttermilk is found in most red velvet recipes and you can simply replace our almond milk with the same quantity of buttermilk. We just like a more mild, less tangy cake so we went with simpler milk.
We stuck to the traditional cream cheese frosting to top our keto red velvet cupcakes. Cream cheese, butter, and powdered erythritol make the perfect topping for the cupcakes. If you can find some red sugar free sprinkles, they make a great finishing touch! If you find heart-shaped sugar-free sprinkles, you have definitely won the decorating lotto. Keto Valentine's cupcakes have never been so tasty!
Go ahead and give this recipe a try and then let us know what you think. It is a wonderful dessert to help you celebrate Valentine's Day this year. These pretty cupcakes also make a great gift- I know I'd be pretty excited to get one on the 14th…or really any day! Happy baking.
Preheat your oven to 325 degrees F and line a cupcake pan with paper cupcake liners.

Make the cake first. Cream together the butter and granular erythritol together until light and fluffy.

Add the eggs, one at a time, scraping down the sides of the bowl between additions.

In a separate bowl, mix together the olive oil, apple cider vinegar, cocoa powder and red dye. Mix into a smooth paste.

Mix the red paste into the butter and egg mix. Stir well.

Add the almond flour, milk and baking powder to the bowl slowly and mix well to make a nice, smooth batter.

Scoop the batter into the cupcake liners, filling each about ¾ of the way.

Bake the cupcakes in the preheated oven for 20-2 minutes or until the cupcakes are set in the center and a toothpick comes out of the center of the cake cleanly.

Meanwhile, making the cream cheese frosting. Beat together the cream cheese, butter and powdered erythritol until light and fluffy. Add the vanilla.

Pipe the cream cheese frosting onto the cooled cupcakes. Add keto sprinkles if desired and enjoy!
So Nourished, Inc. is a participant in the Amazon Services LLC Associates Program, an affiliate advertising program designed to provide a means for sites to earn advertising fees by advertising and linking to Amazon.com.
NUTRITIONAL DISCLAIMER
The content on this website should not be taken as medical advice and you should ALWAYS consult with your doctor before starting any diet or exercise program. We provide nutritional data for our recipes as a courtesy to our readers. We use Total Keto Diet app software to calculate the nutrition and we remove fiber and sugar alcohols, like erythritol, from the total carbohydrate count to get to the net carb count, as they do not affect your blood glucose levels. You should independently calculate nutritional information on your own and not rely on our data. The website or content herein is not intended to cure, prevent, diagnose or treat any disease. This website shall not be liable for adverse reactions or any other outcome resulting from the use of recipes or recommendations on the Website or actions you take as a result. Any action you take is strictly at your own risk.
Latest posts by Amanda Bochain
(see all)
Have You Tried These Delicious Recipes?