Perfect Keto Granola Bars
When I first started following a keto diet, one of the hardest things was finding low carb snack food. Before keto, I was definitely the kind of person who would reach for some crackers or even a chocolate bar when I wanted a snack. It was not very healthy but it was also a hard habit to break. Even though I had switched to eating low carb breakfast, lunch and dinner, midday foods were tricky. Everything I loved seemed to have so many carbs!
One afternoon snack that I have always loved is a good granola bar. They are convenient, tasty, and curbs my need for something sweet. So, once I had committed to the keto lifestyle, I also decided to make a granola bar that I could enjoy without breaking my diet. That was the beginning of this delicious maple granola bar recipe.
Most granola bars are made primarily with rolled oats. You may think that oats are pretty healthy and, yes, they do have a lot of health benefits. However, when you are trying to eat lower carb foods, oats are not your friend. One cup of oats has almost 66 grams of carbs. That is a few day's worth of carbs to a keto follower. It is just way, way too many. To make a keto-approved granola bar, the oats had to go.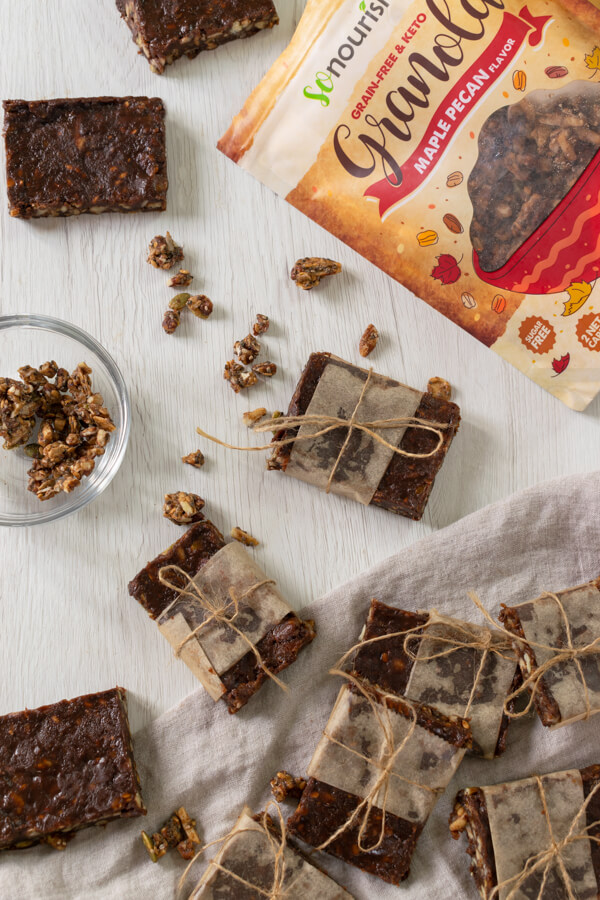 Luckily, you can make a fantastic granola bar without ever using one single oat. I decided to use So Nourished Maple Pecan Granola as the main ingredient in my granola bars. It is already granola, why not make it into bars! Seems logical. The maple pecan granola is also already loaded with amazing ingredients that make a perfect afternoon snack. Take a quick look at what is packed into that little orange bag:
• Pecans
• Almonds
• Sunflower seeds
• Golden flax seeds
• Chia seeds
• Erythritol
• Pumpkin seeds
• Maple flavor
• Cinnamon
• Salt
• Monk fruit extract
• Chicory root fiber
Everything on that list sounds delicious to me! From the nuts to the seeds, everything is keto-approved and low carb. The granola is made sweet with natural erythritol and also monk fruit. This is definitely the perfect start to a delicious granola bar.
To make the granola into granola bars, you begin by melting almond butter, So Nourished Pancake Syrup, and coconut oil together. I chose to use pancake syrup as the main sweetener so that the maple flavor of the bars was enhanced. The syrup is also nice and sticky and helps the bars hold together. Once the mix simmers, the vanilla and salt are added. Then, the hot syrup mix is poured over the maple pecan granola and everything is tossed together.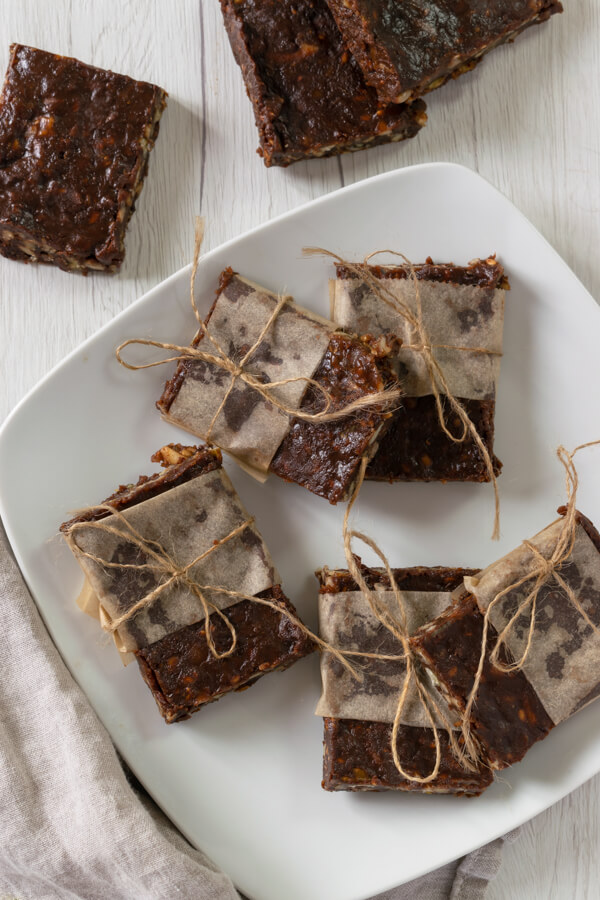 Once the granola is coated in the syrup, you can choose to mix in some keto dark chocolate chips. I like Lily's brand of low carb chocolates but really any unsweetened or low carb chocolate chip will work. You can also skip the chocolate chips completely. These maple pecan granola bars have a lot of flavors already. However, as I mentioned before, I like a good chocolate treat as a mid-day snack so I definitely want those chocolate chips in my bars!
The granola bars are pressed into a parchment-lined baking pan and left to sit. After about an hour of chilling in the fridge, they should be set, firm, and ready to cut! Wrap the granola bars individually in parchment paper and you have your own, homemade, convenient, snack ready to go. They keep for about three months in the freezer so you can stock up and never run out of keto snacks again.
These granola bars definitely made my keto diet easier and tastier. I no longer wonder what to reach for when that mid-day hunger hits. These maple pecan granola bars do the trick! Hopefully, you enjoy them too.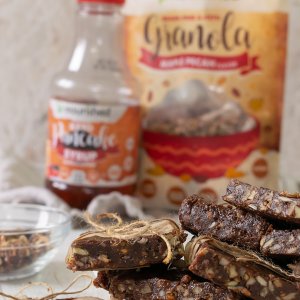 Macros per serving:
• 313 Calories
• 27g of Fat
• 8g of Protein
• 5g of Net Carbs
Macros per serving:
• 313 Calories
• 27g of Fat
• 8g of Protein
• 5g of Net Carbs
Line an 8x8 square baking pan with parchment paper and set aside.

Add the almond butter, So Nourished pancake syrup and coconut oil to a small saucepan and stir together.

Heat the mix over medium heat, stirring occasionally until it begins to simmer.

Simmer for one minute, stirring constantly so that the mix doesn't burn to the bottom of the pan.

Remove the saucepan from the heat and add the vanilla extract and salt. Mix well.

Place the granola in a large bowl and pour the hot almond butter mix into the bowl, over the granola. Stir quickly to coat the granola in the hot syrup.

Stir in the dark chocolate chips, if using.

Pour the granola mix into the prepared baking pan and spread it evenly. Press the granola into the pan firmly, making it nice and flat. Place a piece of parchment paper on the surface of the mix to help you press it into the pan easily, without the mix sticking to your hands.

Cover the pan of granola bars and place in the fridge to chill for about an hour.

Cut into granola bars and enjoy! You can store the bars in an airtight container, in the fridge for up to 5 days. You can also freeze them for up to three months.
So Nourished, Inc. is a participant in the Amazon Services LLC Associates Program, an affiliate advertising program designed to provide a means for sites to earn advertising fees by advertising and linking to Amazon.com.
NUTRITIONAL DISCLAIMER
The content on this website should not be taken as medical advice and you should ALWAYS consult with your doctor before starting any diet or exercise program. We provide nutritional data for our recipes as a courtesy to our readers. We use Total Keto Diet app software to calculate the nutrition and we remove fiber and sugar alcohols, like erythritol, from the total carbohydrate count to get to the net carb count, as they do not affect your blood glucose levels. You should independently calculate nutritional information on your own and not rely on our data. The website or content herein is not intended to cure, prevent, diagnose or treat any disease. This website shall not be liable for adverse reactions or any other outcome resulting from the use of recipes or recommendations on the Website or actions you take as a result. Any action you take is strictly at your own risk.
Latest posts by Amanda Bochain
(see all)
Have You Tried These Delicious Recipes?